I screamed when I saw a tweet from Genevieve Nnaji that the Nigerian Oscar selection committee had chosen her movie, LionHeart, to represent Nigeria at the 2020 Best International Film Oscar Award. The 92nd Academy Awards will take place on February 9, 2020, at the Dolby Theatre in Los Angeles, USA.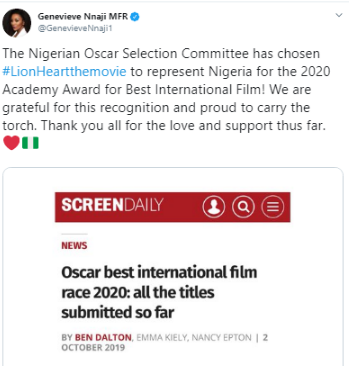 I first wrote about LionHeart when there were speculations that Netflix paid $3.8 million dollars for it earlier in the year. My prediction at that time after Netflix made the movie their first original film produced in Nigeria was that LionHeart would open the doors for many other Nigerian movies internationally. Netflix has gone on to acquire "Mokalik", "Chief Daddy", "The Wedding Party", "The Wedding Party 2," " King Of Boys", "Merry Men", and other titles from what I like to call The New Nollywood. Other movies and storylines from Nigeria have gone on to get International nods with Oscar-winning actress Lupita Nyong'o set to star in and produce an adaptation of Nigerian author Chimamanda Ngozi Adichie's acclaimed novel, Americanah, to be produced by Brad Pitt's company Plan B.
I am a big Genevieve Nnaji fan, but an even bigger Nollywood fan. Beyond my years of watching movies from Nollywood, one of the largest producers of movies in the world, I worked in communications for iROKO Partners Limited, one of the world's largest distributors of Nollywood movies.
I have been seeing a lot of tweets wondering why other very good movies from Nigeria like King of Boys, Wedding Party, e.t.c., were not selected by the Nigerian Oscar committee. There are even questions about where this Oscar committee has been all this while. Let's answer a few of these questions.
What is the Nigerian Oscars Selection Committee?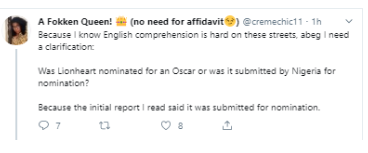 The Nigerian Oscar selection committee was first inaugurated in 2014. Nigeria joined 82 other countries contesting the 'Foreign Language' category, now called the 'International Feature Film' category, after approval and subsequent inauguration of the committee in February 2014. Nollywood has not presented any film for the Oscars so far because the few submitted did not meet "basic criteria".
This year, the Academy of Motion Picture Arts and Sciences (AMPAS) has named a new set of Nigerians as stakeholders in the 2020 edition of its award. The 12-man committee is a blend of old and young Nollywood practitioners and it is headed by pioneer member, Chineze Anyaene. Other members of the Nigerian Oscars Selection Committee (NOSC) include Mildred Okwo, Mahmood Ali-Balogun, Ngozi Okafor, Charles Novia, Abba Makama, Bruce Ayonote, Ramsey Nouah, Chioma Ude, Shaibu Husseini, Adetokunbo "DJ Tee" Odubawo and CJ Obasi.
What is the basic criteria for selection for the International feature film category?
The Best Foreign Language Film Oscar has been presented annually since 1956. This category usually has the largest submission of movies. For 2019's award, there were 87 submissions with the award going to Netflix original Alfonso Cuarón directed Mexican family drama ROMA.
The category has generally favoured powerful stories of families but when the former chairman of the Oscars' Foreign Language Film Award Executive Committee, Mark Johnson came in, he introduced some reforms that brought in "more eclectic, edgier films".
Last year, Larry Karaszewski and Diane Weyermann were named co-chairs of the Oscars' Foreign Language Film Award Executive Committee, replacing longtime committee chair, Mark Johnson.
The inaugurated oscar committees in different countries are very selective when choosing films to represent their country. Looking through the category requirements available on the official academy awards website, here are some of the requirements which the Nigerian oscar selection committee might have looked at:
At least half of the film's dialogue must be in a foreign language. For LionHeart, Igbo and Hausa are featured substantially in the movie.
The film has to be foreign – in other words, not primarily produced by an American production company. This is where a lot of movies get disqualified by the committees in their respective countries. For example, in 2004, The Passion of the Christ was not nominated for Best Foreign Language Film because it was created by an American Company Icon Productions even though the film was mostly in Aramaic, Latin, and Hebrew and was shot in Italy.
A potential Best Foreign Language Film or International feature film must play for at least seven consecutive days in any theater in its home country. Genevieve Nnaji's LionHeart had some issues with Nigerian cinema operators, so it's unclear if it will be disqualified based on this criterion.
Submitted films must have been released theatrically in their respective countries between October 1, 2018, and September 30, 2019.
Does the submission of a movie automatically mean it makes it to the Oscars' main event?
 The answer is NO. There are over 80 submissions most years. Submissions are due on October 1, and about ten weeks after that an Academy committee announces a list of nine finalists.
A second committee then narrows the finalists to five nominees. So this nomination is just the first step.
What other Nigerian movies could have been nominated by the Nigerian Oscar selection committee?
According to veteran Nigerian actress and filmmaker, Uche Jombo Rodriguez, the nomination for this Oscar was between Mokalik, a film by Kunle Afolayan and Genevieve Nnaji's LionHeart. Other movies produced in the same period didn't meet the criteria.
The selection criteria are very important if a movie from a country is going to get the chance to make it to the Oscars' main stage. A lot of producers and directors have to be very deliberate about the movies they produce and target the goals they want to achieve.
Why is this important for the Nigerian film industry?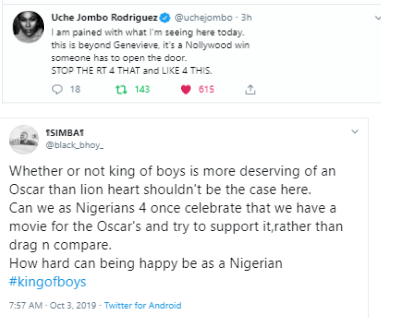 This is no small feat and echoing the words of Uche Jombo Rodriguez and another Twitter user, "someone has to open the door" and Nigerians should celebrate that a Nigerian feature film is finally moving closer to the Oscars' main stage.
Whether or not LionHeart makes it all the way to the Oscars, this category is very important in the world of film and comes with great pride. It is a validation for Nollywood and opens the door for producers, directors and even other talents in the industry.